~ Moose is currently 25.5 months old ~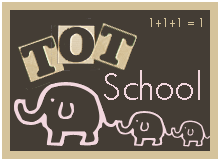 Letter of the Week: Hh
Object/Theme: Hammer/Tools
Color: Pink
Shape: Star
We started off the new week with a new pocket chart on the fridge featuring the letter, color, and shape of the week. The sets I chose (all from Lakeshore Learning, but apparently not available online) feature photos of objects, which seems to particularly attract the Moose. I intended it to be primarily a visual, but Moose ended up interacting with it quite a lot - especially taking out and holding up the different stars (a starfish, starfruit, and gold craft star).
I used the
printables from 1+1+1=1
again, although I can honestly say that, except one swipe of a dry erase marker at the
binder
housing the sheets, Moose had absolutely no interest in doing coloring/tracing this week.
Because I did not have any smaller tool toys to feature on his shelves, I concentrated on some shape toys. Moose really likes his
Melissa & Doug Chunky Shapes Puzzle
(he has taken to chunky puzzles in a way and with a skill he never showed with the "age-appropriate" large peg puzzles he spent all last year with). The laminated shape cards from the printables got a lot of play again and he very soundly knows diamond, star, and oval on his own. He really took to his
Lauri Toys Shape and Color Sorter
!
Although shapes and colors were not actually sorted.
Moose's book basket featured
The Toolbox
,
Helping Daddy
, and
Skippyjon Jones Shape Up
. The Toolbox (like all Anne Rockwell books) is absolutely beautiful, and if you have a young tool enthusiast in your family, I can't recommend it enough!
Moose was most excited that his tool toys were featured this week. He loves his
V Tech Tool Box
and
Fisher-Price Drill Set
! I had put up the drill bits when we originally purchased the toy (lest they get lost) and brought them out for the first time this week and he spent A LOT of time driving the screws in and out.
Daddy Moose also invited him out to his workshop while he finished up some pens he had turned on the lathe, which Moose loved!
Moose specifically asked for yoga as his indoor physical activity this week and followed along very well with his two favorite segments on YouTube (run through the TV): the
warm-up from Yoga Motion
and some
bug-inspired poses
. Interestingly, he brought toys to his yoga mat to play after yoga was finished, and I'm thinking he might do well (and contain his mess!) with a Montessori-style mat, so I'm going to look on Etsy this week for something of that nature.
The surprise learning moment of the week came thanks to an early morning (pre-sunrise) on Wednesday and an elephant-shaped booklight that Moose noticed high on his shelf. We turned off the overhead light and turned the booklight off and on, shone it at the walls and ceiling, and talked about light and dark. Of course I have no photos to show for it, but he was absolutely delighted by the experience!
This coming week we will move on to Ii and I can't wait to try out some of the cold weather fun ideas that have been coming to my inbox from some of my favorite blogs! Moose is expected to move up to the next classroom at daycare sometime soon, so our alphabet run may get shifted, but for now I'm happy that the letter Ii falls during some actual wintry weather!
For some really excellent Tot School inspiration, visit Carisa at
1+1+1=1
!
Disclosure: this post contains affiliate links.